Automated Solution for 4K Video Output Inspection
2019/2/5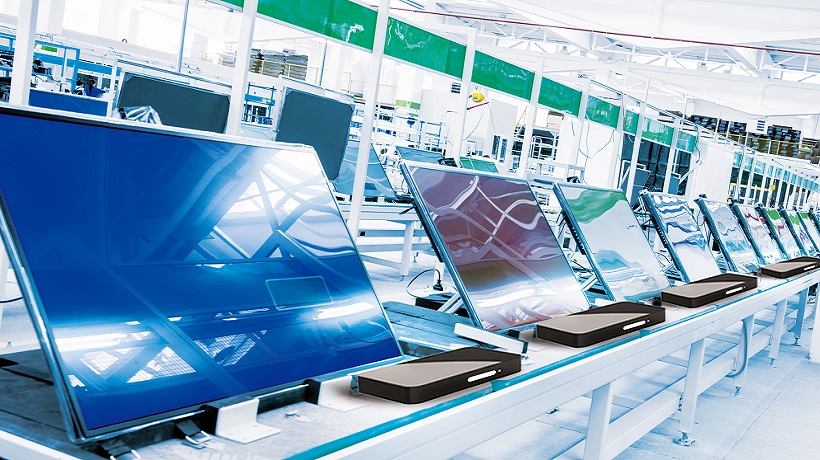 This manufacturer of 4K set-top boxes with HDMI outputs previously employed traditional product inspection methods that relied on visual inspection and offered no means to improve the accuracy of inspection, the type of items that could be inspected,or the number of items that can be inspected. Hence, the client sought to implement automated inspection by utilizing image processing. The solution consisted of Advantech IPC and multi-channel 4K HDMI video capture cards, which allow a single system to capture and inspect video outputs from multiple set-top boxes.The system concurrently collects inspection data to ensure video output and improve product quality.
Before the system was implemented, it needs manual operations to inspect a number of set-top box output formats and relied on the naked eye to determine the accuracy of video output. This method is subjective and prone to errors. It is unable to verify many display modes. Furthermore, there is no detailed statistics to give manufacturers a good understanding of product quality or the verification results.
The client wished to utilize image detection in a single system to connect multiple set-top boxes so that the automated inspection can simultaneously verify 4K HDMI video outputs from multiple set-top boxes. Furthermore, manufacturers can preload testing patterns of video output modes to run additional quality verifications. All defects of the video output can be stored to reduce defect loss and improve yield.
The DVP-7011UHE capture card was selected as the image capture device to be integrated into the system. DVP-7011UHE is capable to capture HDMI 2.0 video input and support 4K resolution (up to 4096x2160), which is on par with the video output formats of mainstream set-top boxes. Multiple DVP-7011UHE cards could be installed in a single system to capture video outputs from multiple set-top boxes and allow for large-scale automated inspection.
In addition, the client required an SDK so that they could quickly develop apps as needed. The SDK supports fundamental functions such as image capture and recording, and it has Intel and NVIDIA GPU hardware acceleration instruction sets that make automated inspection markedly more efficient. CPU resources can thus be managed more effectively to meet the quality assurance needs of set-top boxes in terms of image processing and display comparison.
The complete solution included ASMB-815 server boards and Xeon CPUs as well as up to five DVP-7011UHE image capture cards. The HDMI video input on the cards captures HDMI 2.0 signals from the set-top boxes, and then apps developed using the SDK inspect the video signal, effectively realizing a fully automated inspection process.
ACP-4010: Quiet 4U Rackmount Chassis for ATX/CEB/EEB Motherboardor Full-size SHB/SBC with Dual System Support
ASMB-815: LGA 3647-P0 Intel? Xeon? Scalable ATX Server Board with 6 DDR4, 5 PCIe x8or 2 PCIe x16 and 1 PCIe x8, 8 SATA3,6 USB3.0, Dual 10GbE, IPMINew
DVP-7011UHE: Capture Card: 1-ch H.264 4K HDMI 2.0 PCIe Video Capture Card with SDK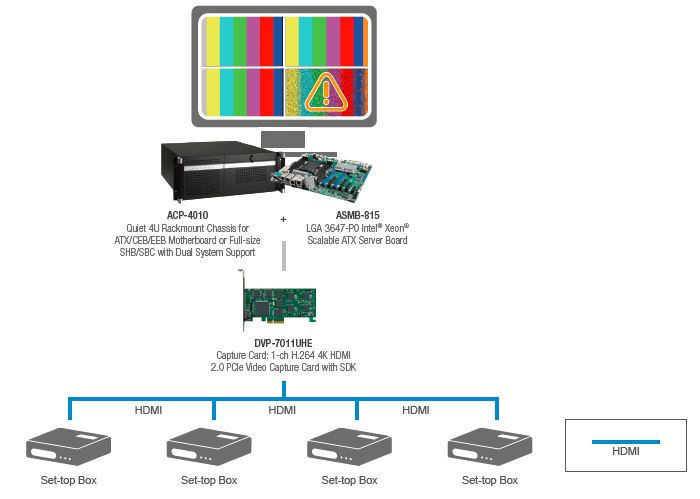 Many video output device manufacturers have attempted to implement automated inspection programs to replace manual visual inspection used in mass production. This is especially true when devices have different video output interfaces and require a specialized inspection procedure to inspect different video output formats. Devices such as laptops, Set-top boxes, video players, medical imaging equipment,and video converters can leverage automated image processing in video output inspection. As 4K video devices are becoming more ubiquitous, image capture cards play a key role in the approach to automation by capturing 4K images and comparing images in the inspection system. Image capture cards can boost production capacity and yield and reduce the risks involved in visual inspection.
The system can capture image outputs from up to five channels.This means that the system can inspect multiple devices without having to check each machine individually.
Abundant SDK resources for development and hardware performance enhancement: All image processing procedures can be completed using the SDK, which provides GPU instruction sets to deliver high performance without affecting CPU performance.
DVP card supports different video interfaces: In addition to 4K HDMI 2.0, products are available to enable image capture in interfaces such as HDMI, SDI, DVI, and composite.